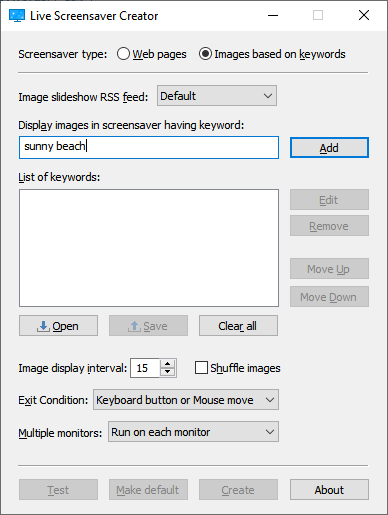 Ever wanted to make screensaver which displays images from the Internet based on keyword search? Live Screensaver Maker (i.e. Ultra Screen Saver Maker's Web component) is a right tool for that.
Just type in keywords and all corresponding images found on the Internet are going to appear in the screensaver.
It's great for displaying images of your favorite celebrities, movies, landscapes, or whatever else you can imagine, for use on your own computer and sharing with friends and relatives.
How to create screen saver based on keywords?
Start Ultra Screen Saver Maker and click "Web" icon. Or directly run Live Screensaver Maker.
Select "Images based on keywords" as a "Screensaver type".
In "Display images in screensaver having keyword" field enter any keyword you want, e.g. "sunny beach". Click "Add" button to insert keyword into "List of keywords" section.
Then click "Create" button to make screen saver based on keyword search.