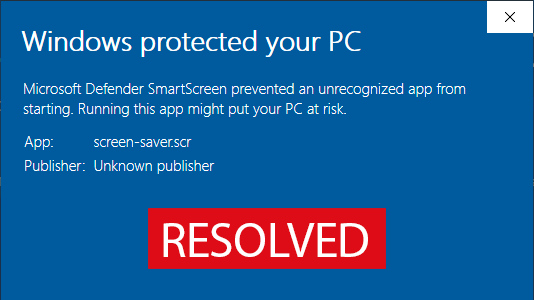 Ultra Screen Saver Maker 2021 brings major changes, speed improvements and bug fixes.
Now you can create digitally signed screen savers!
We are introducing an option to create Digitally Signed Screen Saver (.scr) with Separate Data (.dat), available when creating screen saver in "Save as type" drop down box. Digitally signed .scr file ensures its authenticity and integrity and identifies the software publisher as Finalhit. Note that both .scr and .dat file files should be used together, i.e. copied to appropriate System folder.
This resolves security warnings, such as "Windows protected your PC – Microsoft Defender SmartScreen prevented an unrecognized app from starting", "The publisher could not be verified", "Open File – Security Warning" and false-positive reports sometimes triggered by antivirus software.
Removed Flash support
Adobe no longer supports Flash Player after December 31, 2020 and blocked Flash content from running in Flash Player beginning January 12, 2021. As a consequence of this, we removed Flash support.
Windows XP and Vista are no longer supported
Since 2014, Microsoft has stopped providing security updates or technical support for Windows XP. Furthermore, since April 2017, the same is valid for Windows Vista. As a consequence of this, we removed Windows XP and Vista support.