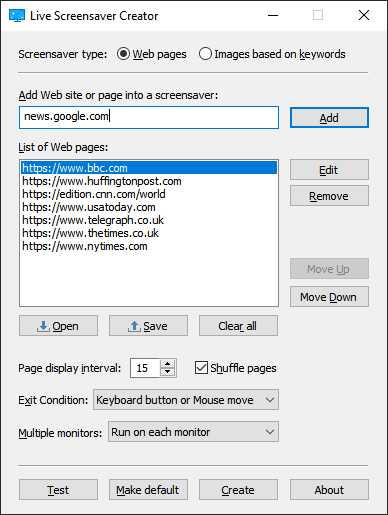 You might have seen various screensaver makers allowing users to add images, videos, and sounds, but you may not have observed a screen saver maker that helps its user to add a web page into a screen saver.
Live Screensaver Creator and his big brother Ultra Screen Saver Maker Premium Edition allow users to display any web page as a screen saver.
Use any website as a screensaver
Displaying web pages as a screensaver helps businesses to showcase their website or particular web pages on a Windows computer desktop screens. The best thing is that when you update your web page, the screensaver changes, too.
It is possible to display multiple Web pages in a single screen saver. The user can change the order of these Web pages, or it can choose to display Web pages in random order.
How to add Web pages to screen saver?
Adding Web pages into your screen saver is simple. Just open Live Screensaver Creator, or if using Ultra Screen Saver Maker Premium edition click "Web" tab.
Just follow the intuitive user interface. Enter the Web page address that you want to include in your screensaver. The click "Add" button. Repeat this process unless you are done with the website adding process.
You can also import or export the list of Web pages using simple .txt file. You can write down the names of all Web pages you want to include in a screen saver and add them to screen saver using "Open" button.
There is a "Preview" button to view the Web page you've entered. It will launch a browser displaying the particular Web page.
All added Web pages will be listed in "List of Web pages" section. To display them in the random order, check "Shuffle pages". Use "Display interval" option to set how often to change Web pages.
To be able to surf the web inside screensaver, change "Exit condition" to "ESC button".
After doing all the stuff, just click "Create" button and that's it!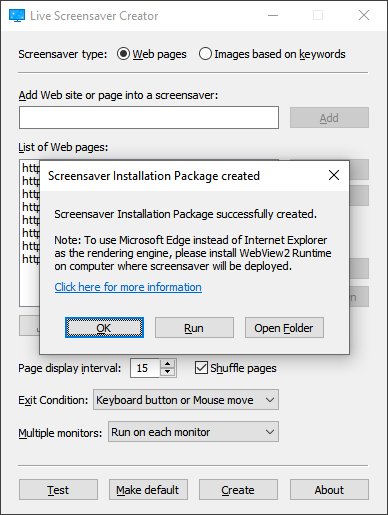 Download Live Screensaver Creator or Ultra Screen Saver Maker Premium Edition to display your favorite Web page as a screensaver!